LandingEdge Overview
16 May 2023

1 Minute to read
LandingEdge Overview
Updated on 16 May 2023

1 Minute to read
---
Share feedback
Thanks for sharing your feedback!
Notes:
LandingEdge is only available to users on the Enterprise plan.
LandingEdge doesn't deploy

Visual Prompting

Models. The only deployment option for

Visual Prompting

is Cloud Deployment.
LandingEdge Overview
LandingEdge is an all-in-one application for end-to-end deployment. This application can connect to your camera, run inference, and drive continuous learning back to LandingLens. Let's take a look at how it works.
After you are happy with the results of your trained Model, you can deploy it to LandingEdge to run inference. Inference is the process of showing images to a Model that the Model has never seen before.
LandingEdge retrieves images from a GenICam camera, a webcam, a folder on your computer, or through an API call. Images can be saved to a folder and sent to LandingLens for continuous learning. Continuous learning is the process of regularly improving your Model. To improve your Model, you can save inference images and send them back to LandingLens to retrain your Model. By continuously improving your Model, you can have stronger, better results.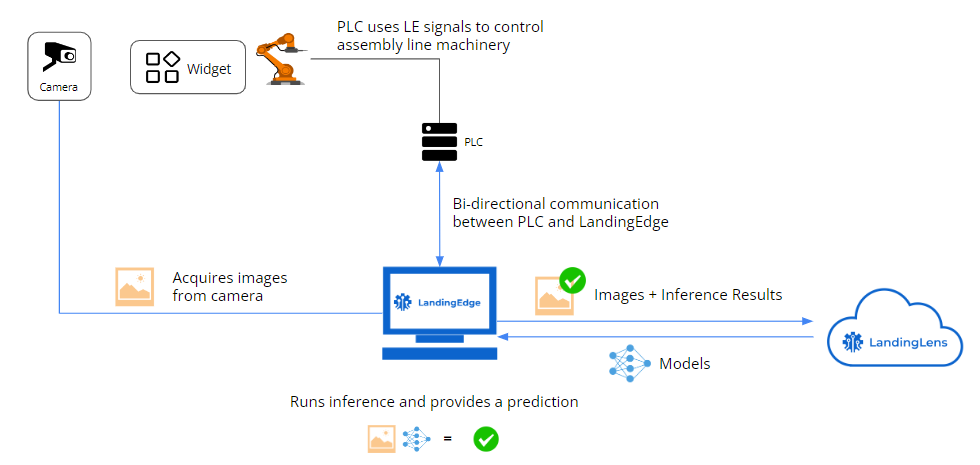 LandingEdge All-in-One Workflow
For example, let's say you previously trained a Model for self-driving cars, and your Model learned to detect people, other cars, and dogs. After you deploy your Model, imagine that the cameras of the self-driving cars snapped images of deer and moose. You can send these images back to LandingLens so the Model can learn to detect deer and moose.
LandingEdge can also be used as a standalone inference engine without the need for any hardware connections. This is achieved by API integration.
LandingEdge Features
Runs on Windows and Linux
Runs locally, and inference runs on your Windows or Linux computer
Does not require the internet
Can retrieve images from a USB, webcam, GenICam, input folder, or API
Can communicate with PLCs (programmable logic controllers)
Can connect and send images to LandingLens for Continuous Learning
Notes:
A Deployment License is required to run inference in LandingEdge.
LandingEdge is not compatible with smart cameras.
Webcams are only supported in LandingEdge v1.
---
Was this article helpful?
---
What's Next